Product Details
Available Sizes
Why We Are Better
Product Reviews
Giant Bean Bag in Cobalt Blue
Color = Cobalt Blue

Material = Vinyl

Circumference 177" (20 cu.ft.)
Floorspace 54" x 54" when sitting upright.
This Giant Bean Bag in Cobalt blue can put the wow in any room. It is in the royal blue color spectrum which is an elegant and sophisticated color. This colbalt blue bean bag is guaranteed to give you a classy feel. Adults 6'6" tall and 250 pounds especially enjoy the cushy comfort of this exquisitely relaxing chair.

You can also get Cobalt Blue these sizes too!
Click on a size to choose.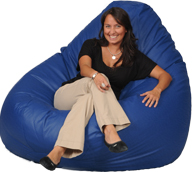 Giant Bean Bag in Cobalt Blue
Currently Shown Above
What Makes Our Chairs Different From All Others?
See in detail here, or read key points below.

Better Materials

Watch Our Videos

Our Mission

Superior Quality

3 in 1 Design
Showroom Specials

Spring Valley, Ohio
Come pick up your bean bag at our Spring Valley showroom and take advantage of some great walk in deals and specials.
Yes!Please mail me your FREE color samples and information packet. I would like to see first hand the true color and texture, so I can fully appreciate the thickness and quality of your fabrics.